The only things missing is my tongue on those luscious pink lips, followed by my hard, thick cock deep inside of her.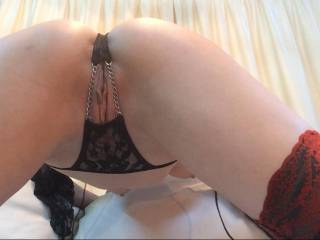 Mmmmmmmmy favorite one position! I'm gonna grab that hot ass with my hands and start to lick gentle and hard rubbing up/down through your ass gap your pussy and asshole, playing with clit, eat it all your sweet pussy, continue do tongue fuck and fingering your holes. Make your pussy very hungry to feed her deep fulfilled with my big very hard cock. 
I'm gonna drive you crazy and make you very wild.
You gonna groan, moan, roar, scream.
I'd (I'll) kneel and fixing your legs with mine or climb on your sweet hot ass, start teasing your ass and pussy rubbing up/down through your ass gap with dickhead of my big hard cock in my hand, then start to ride and drill you first tease your holes with my dickhead do rubbing circles then slide shallow dickhead only, then stinging you in/out (pull your hair back, nibble your shoulders and neck), then ramming and drilling deep fulfilled you deep inside. That will gonna be a wild ride. I think i'm going to need to lick it, fuk it, spank it, spit on it and make it cry. Lick along those sexy thick pussy lips, suck on them, rub them around, tease you with my BIG COCK make you beg for it. Get you literally dripping wet and then fill you, stretch you, pound you in so many positions. I always wondered what those panties looked like when a gorgeous pussy had them on. I wonder no longer. I would love to give her my big one mmmmmm. Yesss, I have what she craves~! . But mind if I eat her gorgeous pussy for a good long while before I slide my thick cock in? ;-)~ Do you think I have a big cock? It is not really big but it is good size. You have an amazing body. Body made for sin so sin on.